PLC can be preferred in industrial field and wherever it may be required. What is PLC in this article? What are PLC types? We will try to find answers to some questions such as what should we pay attention to when choosing a PLC.
What is PLC?
It is based on controlling the information received from the field (digital and analog inputs/outputs, temperature, ….etc) in line with a flow and requesting a result according to the received information. In the past, these processes were done over relay systems. With the new possibilities of today's technology, these works can now be done with microprocessor controlled PLC products.
The expression PLC is an abbreviation of the English "Programmable Logic Controller" expression.
The microprocessor in the PLC scans the information received from the field very quickly and gives commands to other relevant field devices to make the desired appropriate output. This command can be either a dry contact output or a proportional valve closing at the desired value. PLC products are now widely used in production lines or machine control in factories.
What are PLC types?
Although PLC products continue to develop themselves with additional features, there are basically two types of PLC. We can classify them as Compact and Modular series PLCs.
Compact PLCs, as the name suggests, are products that provide fewer inputs and outputs. It is ideal for places where a maximum of 250-300 I/O signals does not exceed. Input feed on the PLC, basic communication ports, some number of inputs and outputs according to the purchased product are all on the PLC unit. Here, the purpose is preferred in places where there are not many I/O signals that need to be received from the field. It represents 12 digital inputs and 8 digital outputs in a 12/8 PLC.
For example, Hitachi EHV+ compact series MV-D64DR shows that the device is powered by 24 V DC and has 40 digital inputs and 24 digital outputs. Besides the compact PLC, I/O can be increased with additional expansion modules. The only disadvantage of this type of products is that when a malfunction occurs in a PLC that uses all of the I/Os, the PLC must be replaced completely.
Modular PLC products are preferred where there are much more I/O signals. If a special communication (Profibus, DeviceNET….v.b) for power supply, CPU, I/O modules is desired, the relevant module should be considered separately. In modular serial PLC, modules are considered separately from each other. The memory size is larger in modular serial PLC. These modules communicate with the CPU through the chassis structure. While preparing the system configuration, 16, 32 or 64 digital I/O modules are selected according to the need. The biggest advantage of this system is that when one of the digital input modules fails, it is sufficient to replace the defective module with a new one. It is more expensive than the compact PLC model.
Today, many brands produce PLC products with codesys software in accordance with programming. Hitachi, one of the first pioneers of this, uses codesys software for both modular and compact PLC products. Thus, you can program your PLC with 6 different software languages (LD, IL, FBD, ST, SFC, CFC).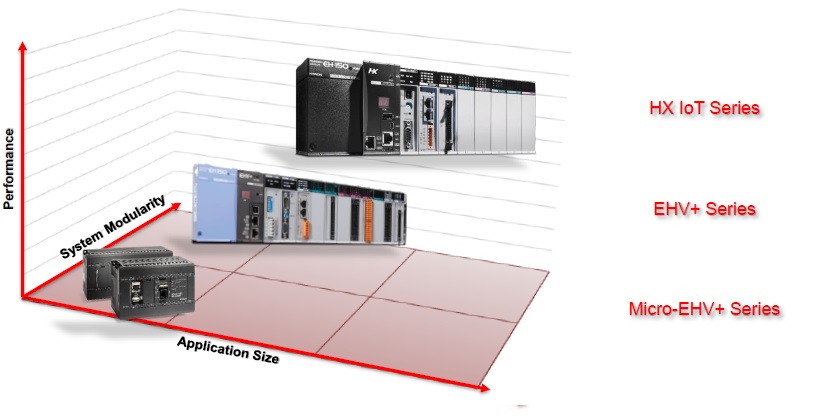 What should we pay attention to when choosing a PLC?
As the application grows, the expected performance from the PLC should be higher. At this point, the importance of the modular series PLC is increasing. PLC selection is directly related to the automation configuration you want to make.
According to this,
Cost
PLC I/O number and electrical properties (relay output, Transistor output, resolution in analog modules, ….etc.)
Command processing speed, Program capacity
Software languages supported by PLC software program (LD, IL, FBD, ST, SFC, CFC)
Is there a need for redundant I/O considering the possibility of future growth of the project?
Communication possibility in PLC (Ethernet, EtherCAT, Profibus, DeviceNET….v.b) what are the requirements of the project?
Communication possibilities in PLC (Ethernet, USB, RS485.. etc.)
Technical support and service opportunity (after sales technical support power)
We can assist you in all kinds of system automation PLC configuration needs, technical support and proposal studies. When you need us, you can reach us on our website www.cedetas.com.tr.
2,800 total views, 2 views today