What is SCADA?
SCADA is the abbreviation for "Supervisory Control And Data Acquisition" system. SCADA enables the monitoring, control and reporting of machines, facilities or industrial areas consisting of many control points from a single center. The control center can be a single computer, or it can be controlled from other computers such as tablets, mobile phones or notebooks with the opportunities offered by today's technology. In particular, there is no need to be in the main computer room where the control system is located. With the development of IoT systems, it is now possible to access SCADA systems from anywhere.
Iconics SCADA:
GENESIS64™, It is the advanced SCADA solution of the American origin company ICONICS. It is a leading company in new generation 64-bit automation software solutions. In all industrial sectors, you can perform comprehensive data collection, control and monitoring for your SCADA needs. CEDETAŞ continues to produce innovative and technological solutions for your SCADA needs with ICONICS.
GENESIS64™ uses SCADA, 3D visuals, OPC-UA, PLC, BACnet, .NET, platform HTML5 and SharePoint® technology. You can prepare a secure cloud environment in Information Technologies (IT) and use the advantages of Industry 4.0. With IoTWorX, you can build next-generation SaaS (Software as a Service) and IoT applications based on analytics and mobile products.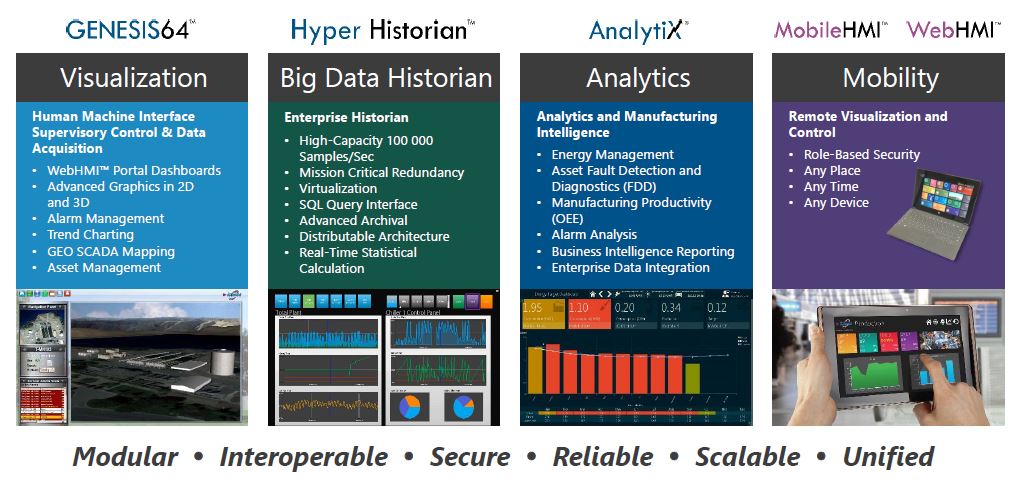 Asset Management:
With ICONICS AssetWorX™ it is an architectural layer that increases operator efficiency and intuitiveness while greatly reducing engineering time. AssetWorX enables the system to be designed and operated based on an intelligent entity model, structured to represent its organization. Users can easily embed fault detection and diagnostics (FDD) or energy measurements within these distributed assets that can be defined according to the ISA-95 standard.
IoT and Cloud Integration:
ICONICS IoT Gateway Suit communicates with Microsoft Azure or third-party applications by moving on-premises data to the cloud over secure transport protocols. With ICONICS SCADA, they can access analytics and mobile solutions from anywhere, thanks to monitoring. Customers can securely access their data in the cloud environment through KPI (Key Performance Indicator) control panels. This advanced technology is the most efficient and cost-effective means of connecting the simplest devices to a global network to maximize system efficiency.
Redundancy: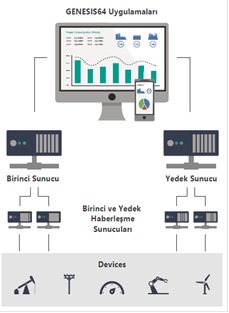 GENESIS64 stores information in a secure and redundant way. With the "Redundant collector" structure, when the communication is interrupted, the data is stored thanks to the buffer feature and transferred to the SCADA when the communication comes… Thus, data loss is prevented. GENESIS64 users Thanks to advanced technology automatic fault detection and storage, real-time data, historical data and alarm information are always available.
With ICONICS Redundancy solutions it is easy to configure, deploy and deploy distributed systems. Tested on Hyper-V and validated for VMware, GENESIS64 software installation covers data access, historical data, alarms and security.
Powerful Central Configuration:
Workbench, is a multifunctional, centralized desktop or web-based environment for all GENESIS64 product configurations and forms the basis of the GENESIS64 package. This makes development faster and lowers the design costs of any application. Users using Windows presentation foundation (WPF) can configure and manage the entire GENESIS64 from any device.
ProjectWorX™ provides complete project management opportunity for any application in a secure workbench environment.
" With ICONICS SCADA; Advanced Viewing Anytime, Anywhere on Any Device."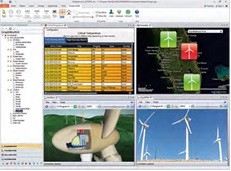 GraphWorX™64, offers stunning 2D and 3D SCADA visualizations that allow customers to view all system operations from desktop ormobile devices. Users can create scalable, XAML vector-based graphics or use pre-configured symbols with dynamic properties, reference colors and flexible animations. Smart Tiles™ are seamlessly integrated to demonstrate key performance metrics in operational control panels. GENESIS64 supports 3D graphics rendering or importing 3D graphics from Autodesk or other third party design software.
Quickly Monitoring Assets with Geo-SCADA :
EarthWorX™,GENESIS64's SCADA geographic information module, provides real-time viewing of distributed assets. ICONICS' patented Pin™ technology provides an intuitive capability to instantly monitor alarms and status for any location worldwide. GENESIS64 is integrated with Bing, Google, Esri maps, and maps in the open web Map Service (WMS) format.
Real Time, Historical Charts and Analytics :
ICONICS offers scalable solutions for history logging and analysis, covering everything from a simple data logger to a cloud-enabled enterprise historian. The powerful TrendWorX™64 viewer is compatible with OPC DA, OPC UA, SQL Server, Oracle, MySQL or ICONICS' interactive OPC HDA, providing open connectivity to data recorded using high-speed, durable Hyper Historian™.
Error Detection :
FDDWorX™, offers real-time FDD (Fault Dedection and Diagnostics) technology that triggers Remediation recommendations and streamlines deployment processes. Proactively detects energy perpetrators and predicts equipment failures to continuously improve equipment efficiency. Instant faults, self-diagnosis, analyze sensor readings and guide service technician
Microsoft Excel Reporting – Optional
ReportWorX™ Express is an Excel add-in that allows users to pull data from a variety of sources. Built-in GENESIS64 security, coupled with support for ICONICS data sources, ReportWorX Express satisfies many reporting needs. ReportWorX™ 365 offers a reporting tool that does not require the installation of previous ICONICS products. Supported data sources include OPC, OPC UA, TrendWorX Logger Databases, Hyper Historian, AlarmWorX Logger Databases, Energy Star and Quality AnalytiX®.
OPC UA and BACnet Universal Connection :
GENESIS64 supports OPC, OPC UA, Modbus, BACnet, web services and communication standards. First 64-bit advanced workstation (B-AWS), GENESIS64, BACnet objects trends and alarms Maximum integration with BACnet protocols, validated by BACnet test labs. GENESIS64 has been certified by the OPC agency for OPC UA compliance.
Alarm Management :
 AlarmWorX™64 is a distributed, enterprise-wide alarm and event management system that can manage the most demanding applications. The alarm system provides comprehensive tools for presenting and displaying real-time and historical alarm information. AlarmWorkX64 includes an OPC result, log and alarm viewer that complies with OPC and OPC UA A&E industry standards.
2. Where is SCADA Used?
Today, the usage areas of SCADA can be adapted to any point within the above-mentioned features and possibilities.
Especially,
Energy Production (Natural Gas, Petroleum, thermal power plant) facilities
Water management (Drinking water, wastewater treatment plants, warehouses, etc.)
Iron and Steel,
Automotive,
food industry
pharmaceutical industry,
machine manufacturers
Traffic Control Centers
SCADA can be used at individual points as well as in private or commercial areas.
3. What are the advantages of SCADA?
Opportunity to monitor and control instantly from the center according to the work done
Controlling and archiving past records
Increasing time and workforce efficiency
Energy consumption, analysis, reporting
Increasing efficiency in planned stops
You can contact us for your SCADA needs. You can reach our contact information at www.cedetas.com.tr.
2,622 total views, 4 views today